Wearing face masks has been mandatory in shops across virtually all of Germany since Monday, 27 April 2020
Look for certifications; the price you pay says nothing about the quality of a mask
All our products are certified and meet standards for containing the spread of the COVID-19 virus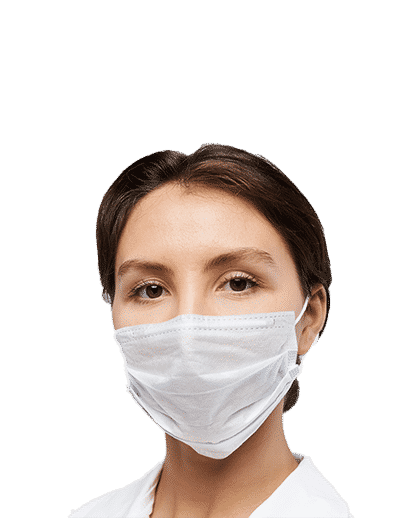 Your health is our concern
The COVID-19 pandemic is showing us just how fast viruses can change the world – from one day to the next. Suddenly everything has changed: We can't travel, meet with friends or family, go to a restaurant, etc.
Experts agree: The only reason the coronavirus pandemic was able to spread so uncontrollably is because we couldn't protect ourselves. Respirator masks and face masks (covering mouth and nose) were in short supply, even in the healthcare system. No provisions had been made, even though experts for a long time had been warning against the next pandemic!
Coronavirus (SARS-CoV-2) is just one virus among many. Spanish flu, viral meningitis, Ebola: Numerous infectious diseases have posed a threat to human health – and even human life. When will we see the next pandemic? No one knows the answer to that question!
Effective, low-cost protection
Where and when do we need virus protection? For example when we're out shopping, using public transportation, visiting a doctor's office or at work. All too often in places like these, people fail to comply with physical distancing rules, making us defenceless against viruses.
Fortunately, it's very easy to protect yourself. With Hygisun, you can be prepared – to protect yourself and those around you!
Our masks offer very high-level protection. What's more, as a manufacturer and supplier of protective face masks, we have acquired extensive experience in Asia, the continent first confronted with the coronavirus pandemic. Now Germany and all of Europe can benefit from our expertise in the field of virus protection.
Additional protection against bacteria and dust
Our masks protect you against viruses, but also against pollen and bacteria.
We also can supply you with masks that protect your airways from dust – in a variety of fields ranging from the food and wood industries, to the construction and building renovation sectors.
Private customers, major clients, medical facilities
Hygisun meets all your needs with a variety of different products – and serves as a reliable and competent partner. We supply you with products through our sales channels and our Sunbeam International GmbH partner network.
Certified and available immediately